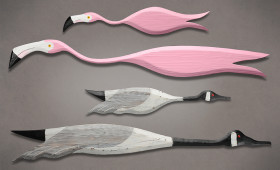 Jim and Lynn Wettach
Jim and Lynn Wettach began creating their handcrafted driftwood birds in 2005.
Each bird begins their journey within a pine, cedar or cypress board. Jim handles the woodworking and Lynn handles the painting. When completed, the birds are signed and packed, ready to head off to the next fine art show.
The Wettach's attend over 30 art shows per year from Florida to Connecticut. Their handcrafted driftwood birds can be found in homes in England, Ireland, India, Canada, and across the USA.